How to upload vector illustration on microstock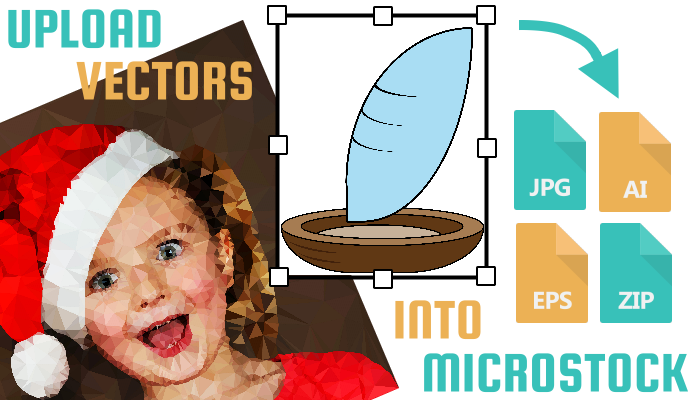 Individual microstock companies has simillar file requirements for vector upload, but there is different way, how you should upload them on server. This guide brings you simple summarization, for all main microstock.
Some of microstock needs EPS and JPG as preview with same name, some needs only EPS, other needs ZIP them together and some of them needs upload EPS manually as additional format. All these requirement are summarized here in simple overview.
EPS + JPG with same file name
EPS format 8 and 10
min 1600×1600 px for JPG
AI, EPS 8 and 10, PDF, or PNG files
for FTP upload use only EPS file, JPG will be generated automatically. This means IPTC data is not automatically uploaded
for broswer based upload you can upload EPS + JPG
Can stock photo
EPS + JPG in ZIP file
EPS format 8 and 10
from JPG is readed IPTC only, then is preview generated automatically from EPS
Crestock
EPS or AI in ZIP file
JPG preview with same name as ZIP file
JPG preview at least 350×350 px. It's recommended to use larger, as it can be sold as raster version too. Maximal size is 18 MPx
EPS or AI + JPG in ZIP file
minimum JPG dimensions 2400×1600 px
JPG, EPS must be added manually as additional format in browser
EPS format 8 and 10, AI, CDR
file size is not limited, JPG preview is better big
EPS or AI + JPG in ZIP file
EPS format 8 and 10
they have info about maximum file size under 2 MB, but they are accept 15MB and larger)
Graphic Leftovers
EPS + JPG with same name
EPS format 8 and 10
JPG preview as big as possible, at least 3MPx
vectors cannot have SAMPLE TEXT, sometimes they accept it on one color background
iStock
Manual upload through broswer only
EPS format 8
JPG preview at least 1900×2800 px
Illustration cannot contains open paths and text
EPS or AI or SVG + JPG with same name
EPS format 8 and 10
JPG preview at least 3 Mpix
EPS + JPG with same name in ZIP file
EPS format 10
JPG preview at least 2000×2000 px
EPS + JPG with same name
EPS format 8 and 10
max file size 15 MB
JPG preview at least 700 – 900px (maximum for accept is 25 MPx)
Quick table overview
| | | |
| --- | --- | --- |
| Microstock | Files | Accept EPS 10 |
| 123rf | EPS + JPG | YES |
| BigStockPhoto | EPS | YES |
| Can Stock Photo | ZIP (EPS + JPG) | YES |
| Crestock | ZIP (EPS) + JPG | YES |
| DepositPhoto | ZIP (EPS + JPG) | YES |
| Dreamstime | JPG, manually EPS | YES |
| Fotolia | ZIP (EPS + JPG) | YES |
| Graphic Leftovers | EPS + JPG | YES |
| iStock | manually both EPS + JPG | NO |
| Pixmac | EPS + JPG | YES |
| Pond5 | ZIP (EPS + JPG) | YES |
| ShutterStock | EPS + JPG | YES |